I was born in Toronto in the late 50's and moved to Cambridge, Ontario in my youth where I focused on the arts while at Southwood Secondary School. I then returned to Toronto to study Industrial Design at the Ontario College of Art from 1979 to 1982. Over the past 25 years while working as an Industrial Designer and Marketer in the Greater Toronto area, I continued to develop my design and painting style. A fascination with colour is the common denominator in all of my work. Today my projects are focused on abstract paintings inspired from photographic images I have taken throughout Southern Ontario.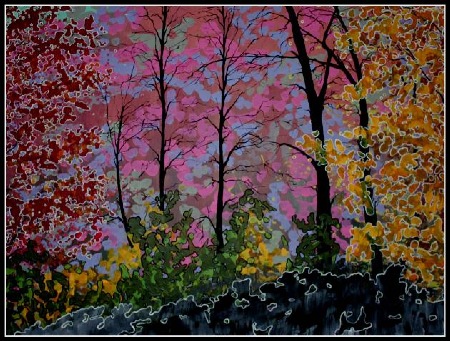 http://www.youtube.com/watch?v=cUMmK3TKxec&feature=mfu_in_order&list=UL

Check out Garageart on Grand River Living TV

http://www.youtube.com/watch?v=n3P0c396cH0

Here's a Video Link - Swinging Poles at the Edissi Gallery "Grandiose Swing"

http://www.youtube.com/watch?v=fBl2Yu2MapY

Mississauga Art Council - Artist / Arts Educator

https://www.mississaugaartscouncil.com/members/hagan/